Introduction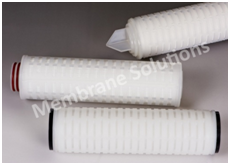 MS® Cartridge filters are simply quality filters, well packaged, and offered at a fair and competitive price. MS PP pleated cartridge filters contains a variety of different series such as PolyPure® Classic, PolyPure® AB and PolyPure® W. These different series has the unique characteristics, suitable for different applications. All-Polypropylene, filter cartridges are designed to optimize throughput while achieving absolute and repeatable effluent quality.
Our 100% Polypropylene construction provides an expansive chemical compatibility range for your most demanding applications. All materials of construction meet the requirements of USP Class VI and CFR 21 for food and beverage contact.
Despite the attractive pricing, the emphasis is very much on quality. Membrane materials are supplied by the best names in the industry and the ISO9000 certified manufacturing is carried out to the highest standards, in certified clean room conditions, using the latest manufacturing technology to ensure a high quality, consistent product.
PP Pleated Filter Typical Applications
Reagent Grade Chemicals
General Water Filtration
Recirculating Liquids
Waste Water
DI/RO Prefiltration
More related products: