PTFE Distillation Membrane Description
MS® PTFE distillation membrane can keep fluid confined while letting volatile constituents pass to realize separation, this due to the abilities of inherent hydrophobic of PTFE and pressure gradient, and this theory of MS® PTFE distillation membrane is illustrated in Figure 1.MS® PTFE distillation membrane achieve the perfect combination of high strength,high WEP and high air flow rate.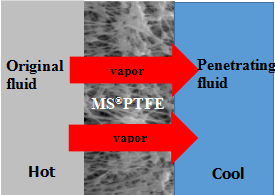 FEATURES&BENEFITS
MS® PTFE membrane is inherent hydrophobicand high chemical resistance
High strength
High WEP
High air flow rate
Ultraclean, non-shedding membrane
APPLICATIONS
1.High-slinity Wastewater Treatment
RO wastewater
Oilfield high-slinity wastewater
Recycled water sewerage
Epoxy resin
2.Volatile Organic Wastewater
Cyanide wastewater
Phenolic wastewater
Acrylonitrile wastewater
Lower alcohol wastewater
Removing the ammonia in recycling wastewater
SPECIFICATIONS
Part No.
Thickness(μm)
Alcohol Bubble Point(MPa)
Alcohol Flow Rate
(25℃,Δp =-0.07MPa)
(ml/min/cm2)
AirFlow Rate
(L/min/cm2@100Kpa)
MSPTFEDT0101BX
160-230
0.19-0.23
8-15
3-4
MSPTFEDT0221BX
0.14-0.17
18-25
4.3-5
MSPTFEDT0451BX
0.07-0.11
35-45
7.5-10.3
MSPTFEDT0102BX
270-400
0.19-0.23

8-15

2.5-3.8
MSPTFEDT0222BX
0.14-0.17
18-25
4.1-5.3
MSPTFEDT0452BX
0.07-0.11
35-45
7.1-10.1
*Custom roll, Sheet, and disc sizes available upon request and specification of other pore sizes, please feel free to contact with info@membrane-solutions.com.
Ordering Information
More Membrane Main Page >>