MS® Residential UF Water Filters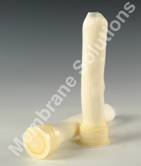 Membrane Solutions has been in Ultrafiltration membrane and cartridge development and manufacturing for over 10 years. Employing 30 membrane researchers and having the advanced technical, MS is one of the largest membrane manufacturers in the world. We ensure that every membrane cartridge has the best quality, high flux, stable effluent and long services life. We offer the experience to support our customers from the decision of choosing the appropriate residential UF filter cartridges.
We have different household UF water filters to choose for you, such as Flat-head UF filter, Flat-pressure UF filter, Korea-type UF filter, Screw-type filter, Plug-in type UF filter, etc. They apply to your household water and remove rust, colloid, sediment and bacteria from tap water to protect the family's health.
More Cartridge Filter Main Page >>
Flat Head UF Filter
Flat Pressure UF Filter
Korea Type UF Filter
Screw Type UF Filer
Plug-in Household UF Filter
Water Filters
Residential Drinking Water System